HOLIDAY HOOP
WEEKEND
We have had such a overwhelming response for our Hoop designs and instructions, I have decided to go ahead and offer them to you. Be sure to see the new project at the bottom of this page!
There are 36 designs in this collection plus everything you need to know for $45 . You can make these any season! Also it would be a great thing to sell at a botique!
Be sure to send me a picture of your completed hoop or hoops and I will add them to this page.
To Order use this banner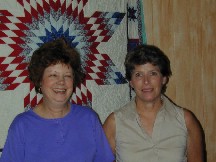 Marilyn and Randi
Holiday Hoop Class In Fairfax Virginia
Here are some pictures of the Holiday Hoop Class in Fairfax Virginia. My thanks go to Pat and Skip, owners of Fairfax Sewing Center, Inc., located at 11211-J Lee Highway, Fairfax, Virginia (703) 273-7811. They were so gracious to give space in their shop for the classes.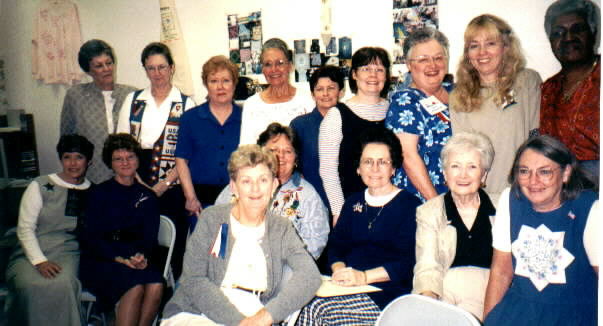 I'm the one on the far left sitting down. Sitting next to me is Jean Smith who arranged the whole weekend. These are just some of the ladies who were there. Below is another picture of the group. They are such a great group! I enjoyed meeting every one. We really had a ball!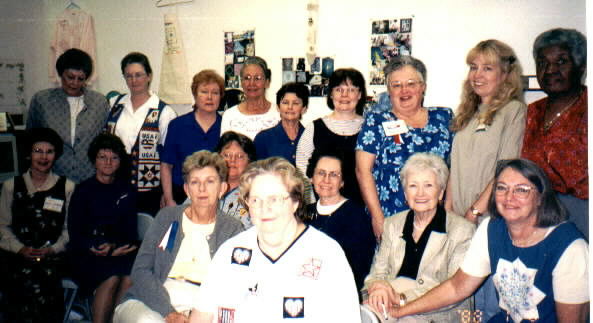 Tucson Arizona Holiday Hoop Weekend
Here are some pictures of our November 2 and 3rd weekend in Tucson Arizona. We really had a great time. We saw old friends and made many new ones. These are just a few from my digital camera. There will be more when I get my film back.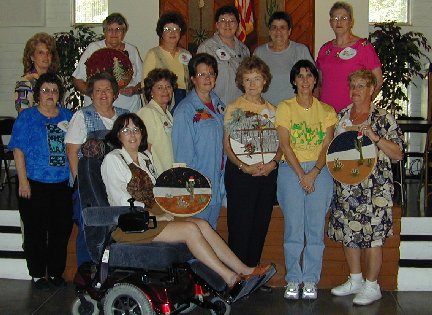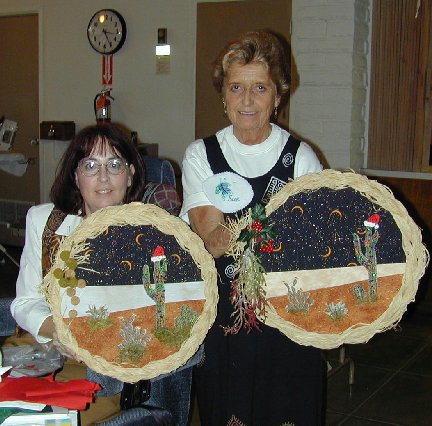 Kathy Riley and Sue Ward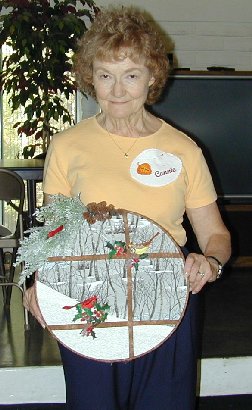 Connie
Sues Cardinals and Church Diane's Church Jackie's Cardinals

Jackie's Church
Click to see larger images of hoops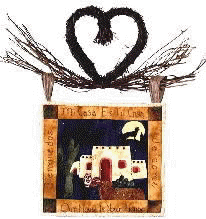 This Welcome wall hanging was made by Kathy Riley who you can see up above from our Tucson Arizona class. I put this on the Holiday Hoop page so you could see what she did with our Saguaro Cactus. This wall hanging was done in appliqué. Kathy made color templates with the cactus and other designs and used them to plan her wall hanging and then they were the patterns for her appliqué. This wall hanging is displayed in the entryway at Kathy's new home.
© All designs are copyrighted by Magical Machine Embroidery and may not be duplicated or changed. No graphics on the page may be duplicated. You may download our free designs for personal use and for gifts or items for sale. However, you may not include these designs in any collection for sale or distribution. Any design wanted for mass production requires permission from Magical Machine Embroidery.