Janice Kristofitz
The Rearing Horse Wood Duck Wedding Buggy
Welcome to our new page featuring our new addition Janice Krstofitz. Janice specializes in animal portraits. She painted futurity winners for a racetrack and has horse paintings in Canada, Norway and states across the United States. She did a series of paintings of semi trucks that are in collections of companies including PAM Oil, Coca Cola, Freightliner and Consolidated Freightways. She has worked with Community Theater on graphics and backdrops, and painted portraits of High School Rodeo Queens and law enforcement personnel. She owns a Baby Lock embroidery machine and makes one of a kind quilts that combine painting and embroidery. A snowbird, she has a lake home in Minnesota and spend winters in Arizona.
Wedding Buggy
This design is $10
Our first design is called the wedding buggy. It is a very detailed horse and carriage. I know you will enjoy this design. It was first used as a wedding invitation. I have been having scanning problems and the picture does not do it justice. Be sure to see our Wedding and Anniversary collection that goes perfectly with this design
PICTURES IS OF ACTUAL STITCH OUT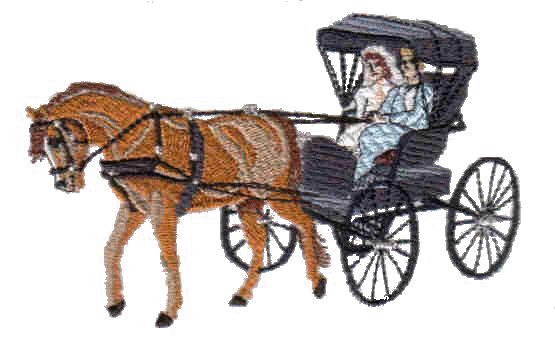 Rearing Horse
This design is done making use of shading and directional stitches to achieve a life like look. Use colors that have enough contrast to each other but keep the shades so they coordinate. Like brown, then medium brown then maybe a goldish brown, etc. I also used a dark bobbin thread and got a much better effect for the dark colors. Then I switched back to white bobbin on Color 4 for the rest of the design. These two designs are shown in the actual stitchouts.
The Rearing Horse is $10 and the Large Rearing horse is $10. Or you can purchase the both at a special price of $17.
Regular size 2.82" x 4.08" but is sized for PES and SEW formats to fit their hoops
Large size 3.57" x 5.16"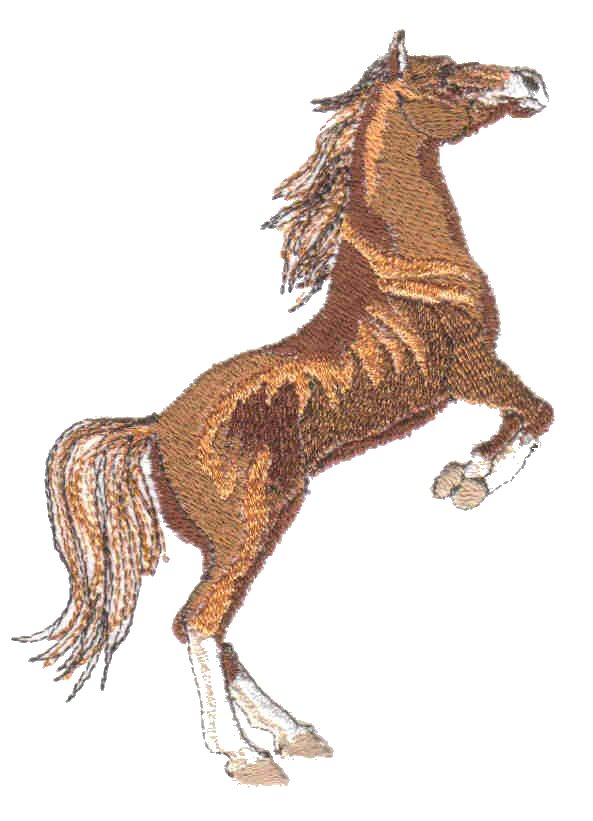 Wood Duck
This is another great drawing by Janice Kristofitz. It is of a male Wood Duck.
It is4.08" x 2.84".
This design can be used for so many different applications. If you are not happy with the colors I chose be sure to experiment with your own!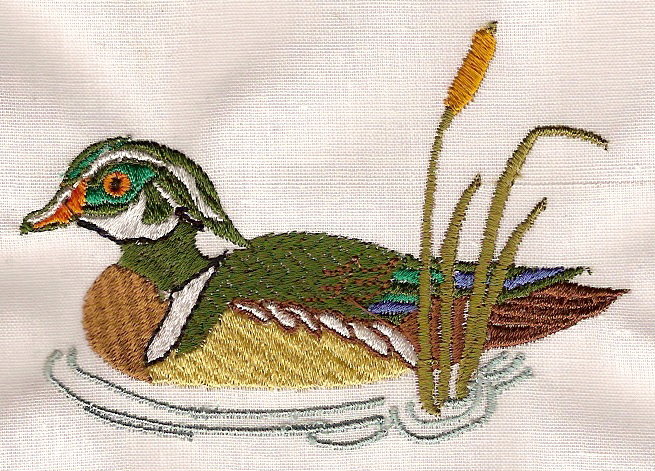 © All designs are copyrighted by Magical Machine Embroidery and may not be duplicated or changed. No graphics on the page may be duplicated. You may download our free designs for personal use and for gifts or items for sale. However, you may not include these designs in any collection for sale or distribution. Any design wanted for mass production requires permission from Magical Machine Embroidery.