KAMP KOLBY
This collection is named after my 3-½ year old grandson Kolby. He and his 1-½ year old brother Logan have just begun their camping experiences. They are in a motor home not yet camping in a tent, but I know they will be soon. So this is a collection of designs that all pertain to the great out of doors. There are designs for the whole family. They would be great on hats and sweats and jackets and camping gear or on anything that an outdoor loving person has. I have made as a bonus, two designs, a raccoon and a bear that are large enough to go on a jacket back or the center of a shirt. You can use these on the curtains in your RV. I get so tired of seeing just floral designs when these are so much more fun and reflect the mood of your trips.
Here is a picture of Kolby and Logan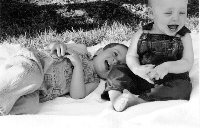 "KAMP KOLBY " is $15 for the entire collection
To Order use this banner and be sure to give me the format you use
Be sure to click on the pictures to see a larger image
Bear In The Woods

2.70" x 4.05"

Bear In The Woods

5.06" x 7.57"

Child Sized Moose

2.43" x 1.82"

Fresh Catch

1.94" x 3.99"

Honorary Ranger

3.54" x 3.59"

Midnight Moose

3.93" x 3.44"

Raccoon

3.35" x3.77"

Large Raccoon

4.46" x 5.06"

Raccoon 2

4.03" x 2.84"

Tippecanoe

3.79" x 1.75"

Trout

4.09" x 1.57"

Wild Duck

4.11" x 2.23"

Single Designs ar $4 each

To order email me.
© All designs are copyrighted by Magical Machine Embroidery and may not be duplicated or changed. No graphics on the page may be duplicated. You may download our free designs for personal use and for gifts or items for sale. However, you may not include these designs in any collection for sale or distribution. Any design wanted for mass production requires permission from Magical Machine Embroidery.