PROJECT PAGE II
Click on a project below to see it
Jane Bahlinger

Jane Bahlinger
Baton Rouge, Louisiana

I used the ULT 2001 for the squares and my trusty Bernina 830 to put it together.
The quilt is for my precious niece/Godchild.
I never was interested in learning to sew when my Grandmother pled with me to learn and then, I picked it up about 12 years ago and love it...wish to goodness I would have listened to my Grandmother and learned from her with all of her sewing wisdom. Learning from books and on-line has been fun, but I'm sure it would have been a smoother process had I learned at her side.
I am married and have 2 sons, ages 18 & 15.
I have multiple sclerosis and am no longer able to work, so sewing has been a God send for me, as it is something I can do in the windows of energy and inbetween "spells" where I can't much get around.
I have a wonderful dog and companion, Gracie, who also enjoys my sewing; she thinks the sewing room is her play room and takes to chewing on many odd things; adding to the overall mess the floor stays in while I'm on a project.
I also have 2 cats, but Gracie tends to keep them away from me, as she is a bit jealous of them getting any of my attention.
The most pertinent fact about me is that I am a Magical Machine Embroidery Designs addict; somehow, Randi's designs do something for me on a consistant basis that no other does. I'm not interested in re-hab, however, as the addiction works very well for me and the quality of my life.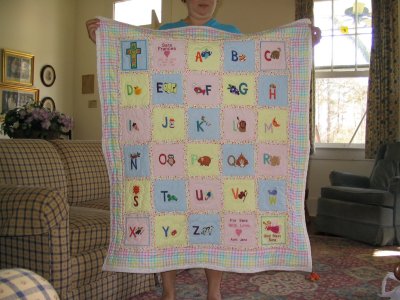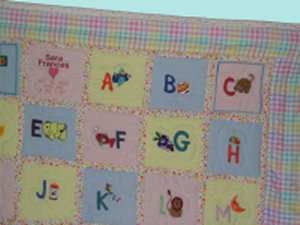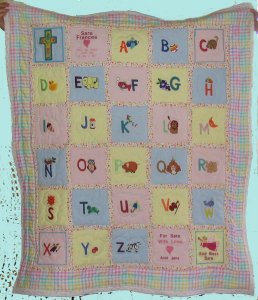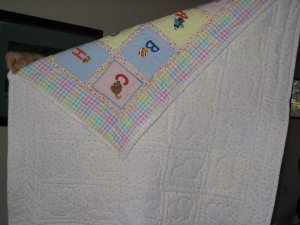 Tucson , Arizona
Kathy is a dear friend of mine who is a really talented sewist and quilter and embroiderer and can do a multitude of other things. She made this dear quilt using our "For Babies and Little Ones" collection. She used the large size in the squares and the small size in the sashing. Kathy uses the new Kenmore embroidery machine.