Those Wonderful Dogs
IN CELEBRATION OF OUR 3 NEW DOG DESIGNS, ALL DOGS WILL BE ON SALE FOR A SHORT TIME FOR $10 EACH!!!!
THAT IS A SAVINGS OF OVER 30% WHEN YOU ORDER, THE CORRECT PRICE WILL BE SHOWN!!!
This page is for all of you dog lovers!
The designs will be offered as single designs! They are all done using a special shading technique to give them a realistic appearance. They will be posted sporadically as they take a long time to digitize and test. So if you want to know which dog will be next be sure to sign up for our news letter on our home page.
Click on the breed to take you to your dog choice
Cairn Terrier Shih Tzu Standard Poodle Golden Retriever Pekinese German Shepherd Scottie
PUG Silky Terrier Camie Baby Boston Terrier Beagle Cavalier King Charles Spaniel
one design Shown in two different colors
click on designs to see larger image
| | |
| --- | --- |
| 3.49" x 3.24" | 3.49" x 3.24" |
One design shown in three different colors
Design is 3.75" x 3.18"
Design works best with Monet wool or cotton or wooly nylon.
| | | |
| --- | --- | --- |
| Monet wool used | Monet wool used | 30 Weight Rayon |
one design shown in two different colors
design is 3.89" x 3.46"
design works best with monet wool or cotton or wooly nylon
One design shown in two different shades
These pictures are the regular view
Design is 3.78" x 3.46"
Color Chart Using Janome Threads
One design shown in 3 different stitch outs The first is done with Sulky 12 weight cotton the nest two are done in Monet wool in two different colors.
The Design is 3.98" x 2.91"
Be sure to click on the picture for a larger view
I have done this design in two sizes. There is no SEW format for the large size. The Price for the German Shepherd is $15 for the 3.90" x 2.88"
$17 for the 4.97" x 3.66"
This design is done to fit all 4" x 4" hoops. The size is 4.20" x 3.13". It is resized for the PES normal size hoop. If you have a larger PES hoop you can convert for the larger size. The Scottie is $15.
PUG
This design is 3.91" x 3.68". I just got a new scanner and I am sorry the design did not scan well. When I figure it out I will replace the picture. The Pug is shaded beautifully and the detail is very good. The Pug is $15.
SILKY TERRIER
This Silky Terrier was drawn by a new artist friend whom I met in Lodi California while walking my dogs. Her name is Shari Arati. I hope to have her draw many dog designs in the future. This design is a shaded design. This design is 2.92" x 3.91" and will fit all 4 x 4 hoops. For the SEW format it is in two parts because of the number of colors. The Silky Terrier is $15.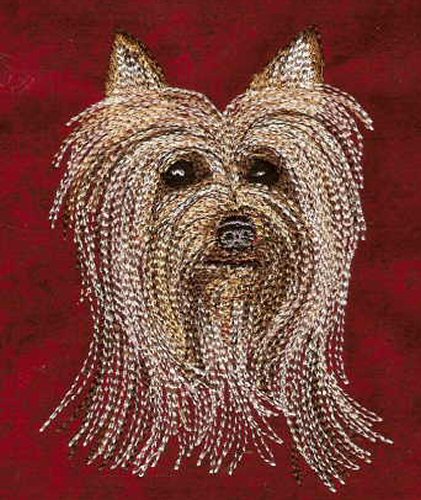 This design is a little different from my other dog designs as it is of a mixed breed. Camie Baby was a Yorkie-Maltese. Her mom was the Yorkie and died during Camie's birth. I am doing a mixed breed dog because we tend to overlook them and truly they are wonderful and beautiful too. I chose Camie (she is now over at "The Rainbow Bridge") because she was extra special to her family. Her human mom has been so sad ever since she lost her. This design is a little remembrance of her.
This Design is 4.o5" x 3.26" This is a shaded design and complete instructions come with the design. Little Camie can be used on any project and for any one who loves dogs.
| | |
| --- | --- |
| Design done in rayon | Design done in Monet wool |
The Boston Terrier comes in two sizes. One for the 5" x 7" hoop and one for the 4" x 4" hoop.
I have used a shading method to define the dogs coat and confirmation. Boston Terriers come in several different colors so you can adjust tat to browns or reds depending on the particular dog you want to stitch out.
BOSTON LARGE

5.21" X 5.20"

BOSTON SMALL

3.88" X 3.87"
The Beagle is one of Americas favorite breeds. We are always reminded affectionately of Snoopy! Again Beagle's come in many colors. The Beagle comes in 2 sizes one for the 5" x 7" Hoop and one for the 4" x 4" hoop. I did these two Beagles in different shading so you can see how they can be adapted to what ever color co ordination you prefer.